RAIN RFID Alliance Meeting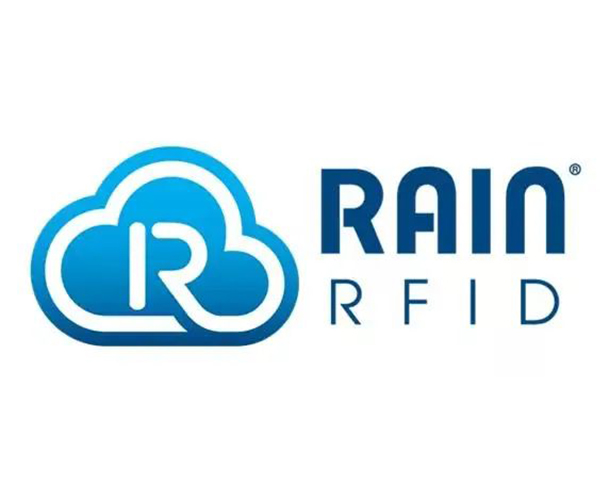 The Rain Alliance Meeting, hosted by the RAIN RFID Alliance, was successfully held on March 3, 2022.
The event was planned based on the suggestions of RAIN Alliance members and the recent development of the RAIN industry. The event brought together many leading RFID companies to discuss how to rapidly promote RAIN RFID technology in the industry.
Affected by the COVID-19 pandemic, the meeting was conducted via online video link. RAIN members and industry experts from around the world discussed topics such as "Approaches to Sustainability", "Adaptivity with current RFID Ecosystem", "The Key to Controlling Supply Chain Disruptions", "New Trends in Apparel Applications", and exchanged recent developments in the RFID industry.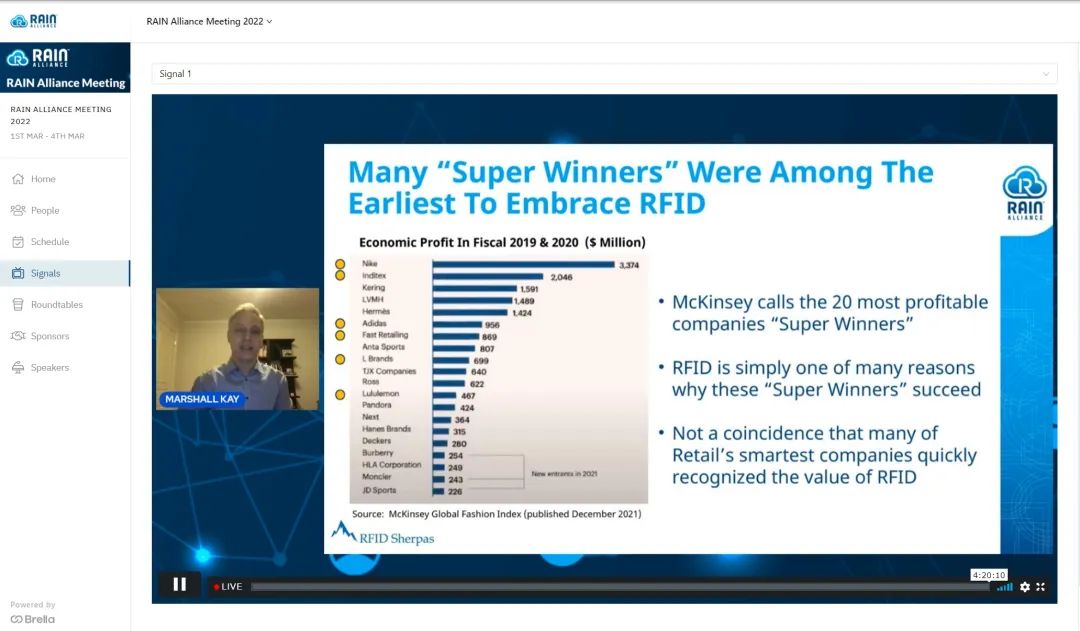 According to the data released by Mckinsy&Company in 2021, six of the top 20 profitable companies in the market are using RFID technology to improve efficiency, while half of the top 10 companies are already using RFID technology.
RFID technology is favored by these market "winners", and its application has further contributed to the success of these them.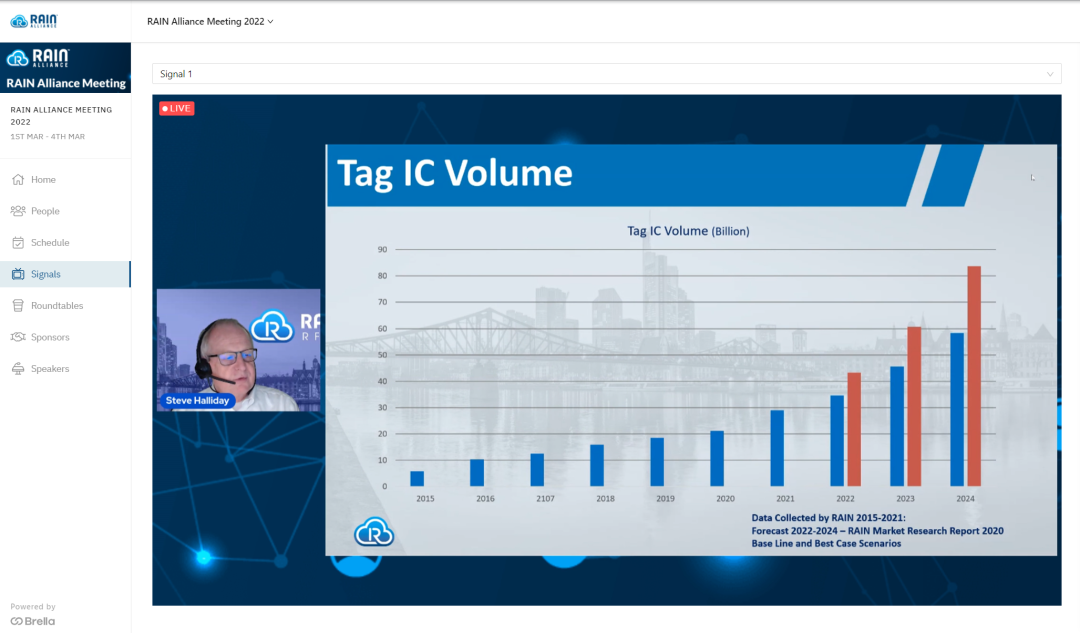 Steve, Chairman of RAIN Alliance, introduced the development status of the Alliance and industry research results.
In the situation of recurring COVID-19 pandemic and chip shortage, the expected and actual shipment of RFID tags are still steadily increasing, and the industry outlook continues to be positive.
As a global RAIN RFID benchmark member, Wal-mart has always been one of the industry's important research objects. The meeting also discussed the development trends of Wal-Mart.
In early 2022, Wal-Mart announced that its suppliers will be required to use RAIN RFID to expand more categories than beyond apparel by September 2022, it includes:
· Kitchen and dining room
· Home Decoration
· Bath and shower
· Bedding
· Furniture
· Storage and organization
· Electronic product
· Toy
· Apparel
"We look forward to applying this technology on more categories to further improve inventory accuracy across the business, provide customers with a better in-store shopping experience and drive more online pickup and storage efficiencies," Wal-Mart said.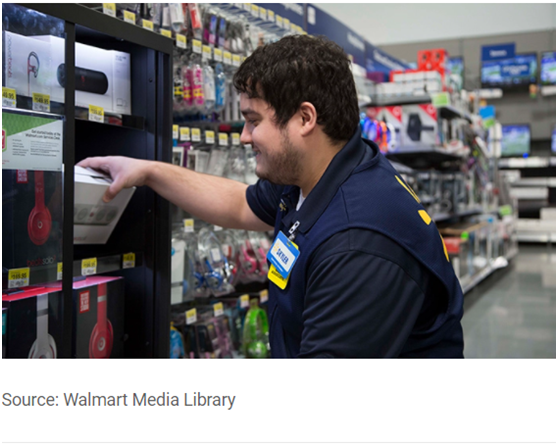 "We've seen dramatic results in our ability to ensure product is available for our customers, leading to improved online order fulfillment and customer satisfaction," said Shelly McDougal, Wal-Mart's senior director of merchandising.
Expanding the technology into more categories will "further improve inventory accuracy across the business, provide a better in-store shopping experience for customers and drive more online and pickup-in-store capabilities," McDougal said.
Wal-Mart is known for offering good merchandise at great prices. Being able to say "even Wal-Mart puts RFID smart labels on its Apparel or Home Goods or (you name the product)" is very powerful. 
Wal-Mart made it clear that it will use RAIN RFID for inventory and supply chain management. Meanwhile, retailers around the world are beginning to discover that it can do more than just manage inventory and supply chains, including the ability to provide retailers with the real-time inventory visibility needed for omni-channel fulfillment, and "buy online, pick up in-store", and shipping from the store. RFID technology can bypass clunky barcode scanning, improve self-check, enhance customer experience and reduce lines. RFID solution can also enhance loss prevention by showing retailers exactly what is missing, when and where it was lost, and how it fits into store trends.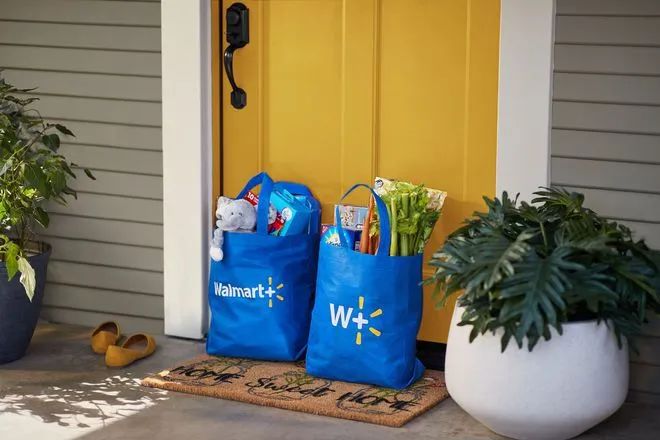 How does RFID solution work in the retail industry?
      1. Each item is tagged with a RFID tag, which includes a thin antenna and a micro tag chip containing the item's identifier. The tags can be made very small and can be embedded in labels, tags, package or even fabric tags.


      2. RFID readers, whether handheld or fixed at a point of conversion, use radio signals to read the identifiers stored on these tag chips. Unlike barcodes, up to 1,000 RFID tags can be read at a time from a distance up to 10 meters without line of sight contact.


      3. The reader sends this tag data to software that interfaces with existing enterprise system. Armed with this data, retailers can instantly know if an item is in stock, or provide online shippers with accurate product availability, or insight into sales patterns that can inform merchandising and prevent shrinkage.